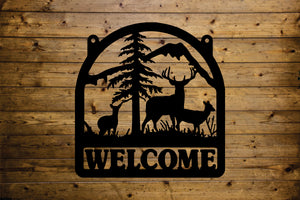 Laser cut welcome sign, cut from 3/16" black acrylic.  Dimensions are 19.5" wide by 20" tall.  These are lighter than metal signs, UV resistant and won't rust. 
These items can be customized for your family surname, cabin, camp, lodge, etc.
Weight:  Approximately 26oz
This item is made to order.  And we will try to fill orders asap, but please allow up to 3 weeks for delivery.